As a member with The Creative Marketing Incentive Group you will receive Unlimited Printing, Emailing and Unlimited use of our HTML Website Certificate Banners for all of our Vacation Certificates, Travel Vouchers, Mp4 and Digital Camcorder Certificates, our 7" Android Tablet Certificates and our $300 Restaurant Certificates all for just $99 per month. Unlimited means Unlimited with CMIG, Inc., so whether you need 100 or 100,000 certificates in a month, you will never pay us more than $99. There are no long term contracts as our program is on a month to month basis! We do offer deep discounts when you purchase 6 months or 12 months in advance by giving away up to three free months for doing so. Contact us directly to sign up for a 6 month term or a 12 month term.
Completely Separate Redemption Websites - Online Redemption - Online Reservation Requests
First and foremost we're a marketing company and we will protect the integrity of your promotions. By using separate redemption websites keeps your customers from finding out what a great value you are getting. We offer by far what is known as the most end user friendly redemption process in the industry. Most of your customers will redeem their certificate on one of our redemption websites and they won't have to wait for a "reservation request form" in the mail. With us, your customers can fill out their reservation request form right online immediately after redemption! Our redemption websites also feature 24/7 status reporting. Your customers will be able to log in to the redemption website with their original certificate code for up to 6 months after they redeem their certificate to check on their status or to even reprint their reservation confirmation.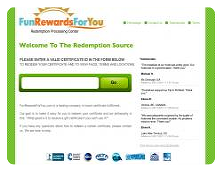 Vacation Certificates
Redemption Site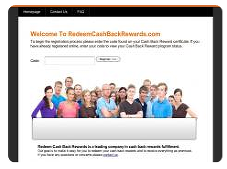 Gas & Grocery Certificates
Redemption Site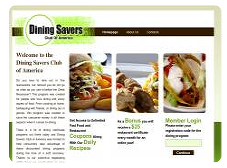 Restaurant Certificates
Redemption Site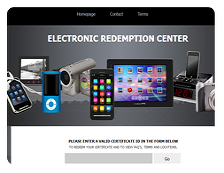 Electronics
Redemption Site
Certificate Tracking With Real Time Redemption Reporting
We track every certificate you will ever email or print. Have a customer that says they never received their E-Certificate? Simply log in to your account, search the database by your customers email address and click the resend button. We also let you know when your customers view the certificates you email them. Any contacts that come from TheLeadHook Banners will be added to this database, too. If you like, we can even email you each time one of your customers redeem their certificate.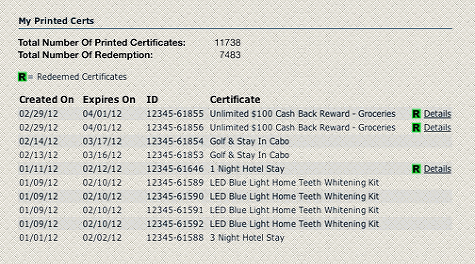 Marketing Materials That Help You Promote Our Incentives Directly To Your Customers
We give you Full Color, Professionally Designed Flyers & Posters for each certificate we offer for no additional cost. We also provide you with Customer Appreciation Letter Templates and Proven Incentive Marketing Tips and Strategies to help you get the most from your incentive marketing campaigns.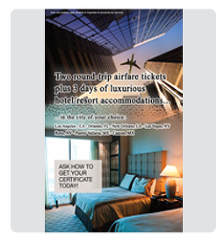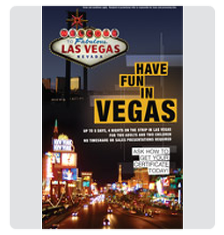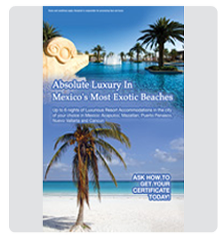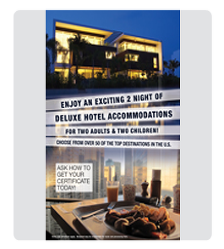 Access To Purchase Our Premium Certificates - No Redemption/Activation Fees To Your Customers
In addition to our Unlimited Certificates Program we also offer Premium Certificates. Premium Certificates are certificates that do not have a redemption/activation fee to your customers. As a member you can purchase our premium certificates with no minimum order required.. When your customer redeems a premium certificate they do not pay a redemption/activation fee in order to redeem the offer. All of our certificates are readily available as a Premium Certificate within your back end control panel. Our Gas & Grocery Rebate Certificates and our $25 Restaurant Certificates are only available as a Premium Certificate. Call Us Today For Our Current Price List.
Top Notch Customer Service With Superior Member Support
We are easy to contact and we always answer our phone during business hours. We even have a 24-hour live answering service that takes our calls just to guarantee that we never miss a call after hours or if we happen to be busy on the other lines. As a member, one of our Senior Incentive Marketing Consultants will create a custom incentive marketing plan specific for your company at your request for no additional cost. We have also created the easiest redemption process in the industry so you do not have to worry about your customers receiving their gift. We facilitate your customers all the way from redemption to fulfillment. Remember, we are the manufacturer of our offers and we currently fulfill all of our travel certificates in-house. With our support ticket systems, our 800 #s, online contact us forms, and our 24/7 online redemption status websites, you and your customers will never have any problems getting in contact with us. Since there are no long term contracts with our service, we are forced to prove ourselves to you month in and month out.
How Do We Do It?
Creative Marketing Incentive Group, Inc. contracts with the world leading hotel chains, cruise lines and resorts to help fill their otherwise empty rooms when they need it most. We help fill empty rooms which the hotels, cruise lines turn into future sales. Hotels rarely experience full occupancy, yet they remain open and they still have their fixed costs. So when the properties give out their rooms by partnering with The Creative Marketing Incentive Group, they might miss out on the room fee, but now they gain a customer in their in-house restaurants, room service, the casino, spa and other amenities within their property. The hotels and resorts are doing it for the same reason why you would be using these incentives, to increase your repeat and referral business. They know that if they show your customers a good time they might tell their friends and family about the great time they had and hopefully will come back to stay there at a regular rate in the future. Contracting with the largest travel conglomerates in the travel industry today ensures quality vacations for your customers with No Timeshare Or Sales Presentations, Guaranteed! In fact, we won't work with any property that has less than a 3 star rating by other travelers on www.TripAdvisor.com