07 Promotion and Distribution
The best performing contests are strategically promoted across multiple platforms. The promotion must be systematic and a repeatable process that generates fast and sustained engagement throughout the duration of the contest.
08 Email Newsletter
91% or consumers check their emails daily. Most businesses have an email base that was created over the time and a lot of them don't use emails properly. Promoting your giveaway via email not only raises awareness but boosts your chances of click throughs by potential participants.
09 Use your Website
Notices, tabs, landing pages and pop ups on your website are great ways to promote your contest to traffic that is coming to your site.
10 Social Media
Needless to say that Social Media is the crucial asset on contest strategy. You can use organic posting plus paid ads to increase visibility of your campaign. To decide on what platform to allocate more time and resources, you need to consider what are the habits of your buyer persona and on which social media they spend more time.
11 Branded Hashtags
While launching your contest on social media, creating a branded hashtag can boost your promotion and help with SEO. Your branded hashtag can be your brand's name, the name of the giveaway or a catchy slogan.
12 Sponsored Ads
​Advertise your giveaway with sponsored ads on Google by setting up the specific audience if you want to put your ad in front of the right people.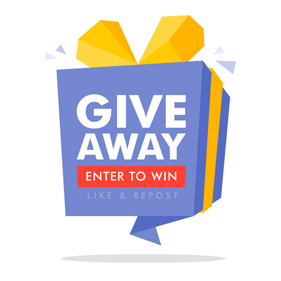 13 Optional Valuable Strategies
Recruit Influencers: Influencers are powerful ambassadors. With the combined efforts of your influencers' fanbase and your own following, you now have a better chance at reaching people.
Blogs​: You can write an entire article about it on your blog, providing links or images readers can use to enter right in your blog post. You can also drop links to your giveaway in the articles that will be live during your giveaway, giving people interested in your articles the chance to enter.
14 After Promotion
Your contest only ends when you announce the end of your giveaway and welcome your newfound followers. After your promotion, you can use user-generated content or create a follow-up post letting them know that they can look out for more giveaways now that they've followed your page or joined your email newsletter list. When your contest period ends, it's up to you to keep your new leads engaged. Try and share exclusive offers or discounts to former participants. Always measure your incentive giveaway results and analyze its performance to make sure that your next contest is just as successful - if not better.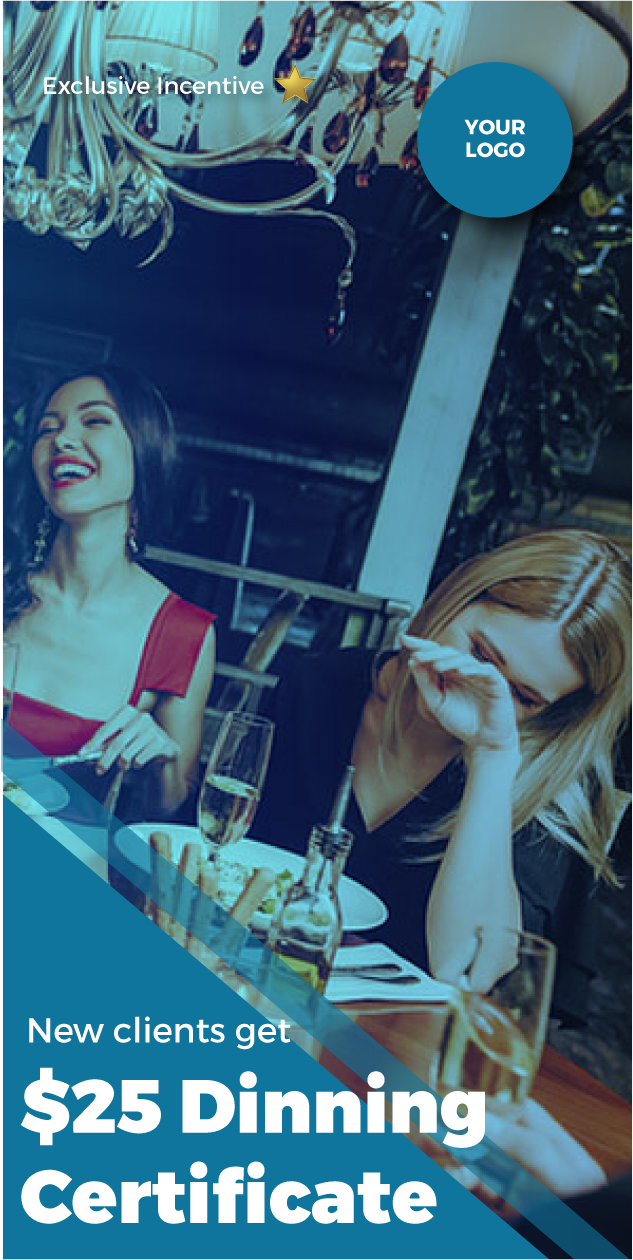 I have the strategic plan, what's next?
Ok, so at this point you are probably motivated and ready to plan your Promotional Giveaway Strategies. Probably you must be wondering what gifts and incentives you should look for, what are the prices, how to handle delivery and many other details on how to make this real. And then you think, phew that's complex. Where do I start?
Creative Marketing Incentives was created to solve that issue for you.
Aware that Promotional Contests and Giveaways are excellent tools that boost and convert sales, they created a program in which clients can have access to as many gift certificates as they wish, paying only a monthly fee.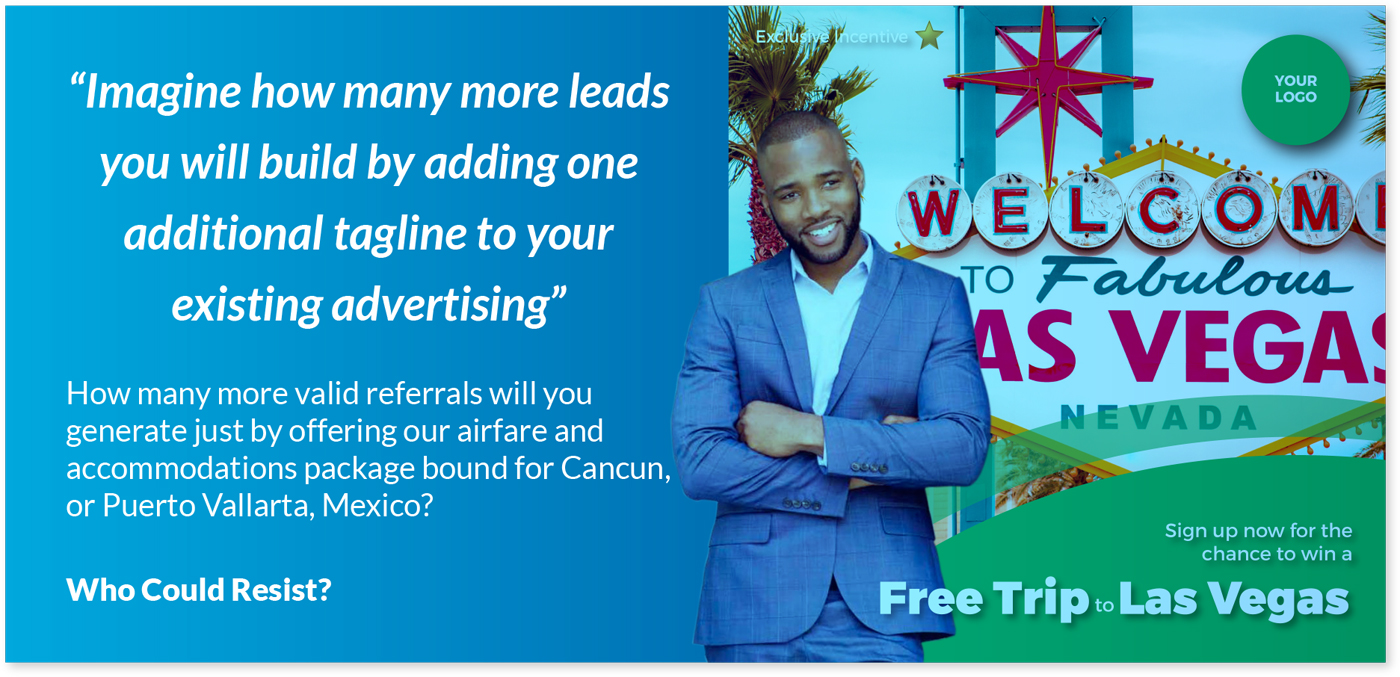 Sound too good to be true?
Many years ago we might have agreed with you. But for the last fourteen years Creative Marketing Incentive Group, Inc. has contracted with world-leading hotel chains, cruise lines and travel companies to bring forth powerful incentives.

We Help in booking otherwise unoccupied rooms. Which hotels and resorts schedule as future sales. Reward your clients and customers with exciting vacation offers, Jumpstart sales and leads, growing your business through CMI's incentives.
Creative Marketing Incentive Group, Inc. has developed a successful program, allowing our members printing rights to unlimited certificates for a simple $99 a month.
FOR $99/MTH YOU CAN ATTRACT MORE CUSTOMERS BY CREATING EXCITING PROMOTIONAL GIVEAWAYS WITH AN UNLIMITED AMOUNT GIFT CERTIFICATES REDEEMABLE FOR: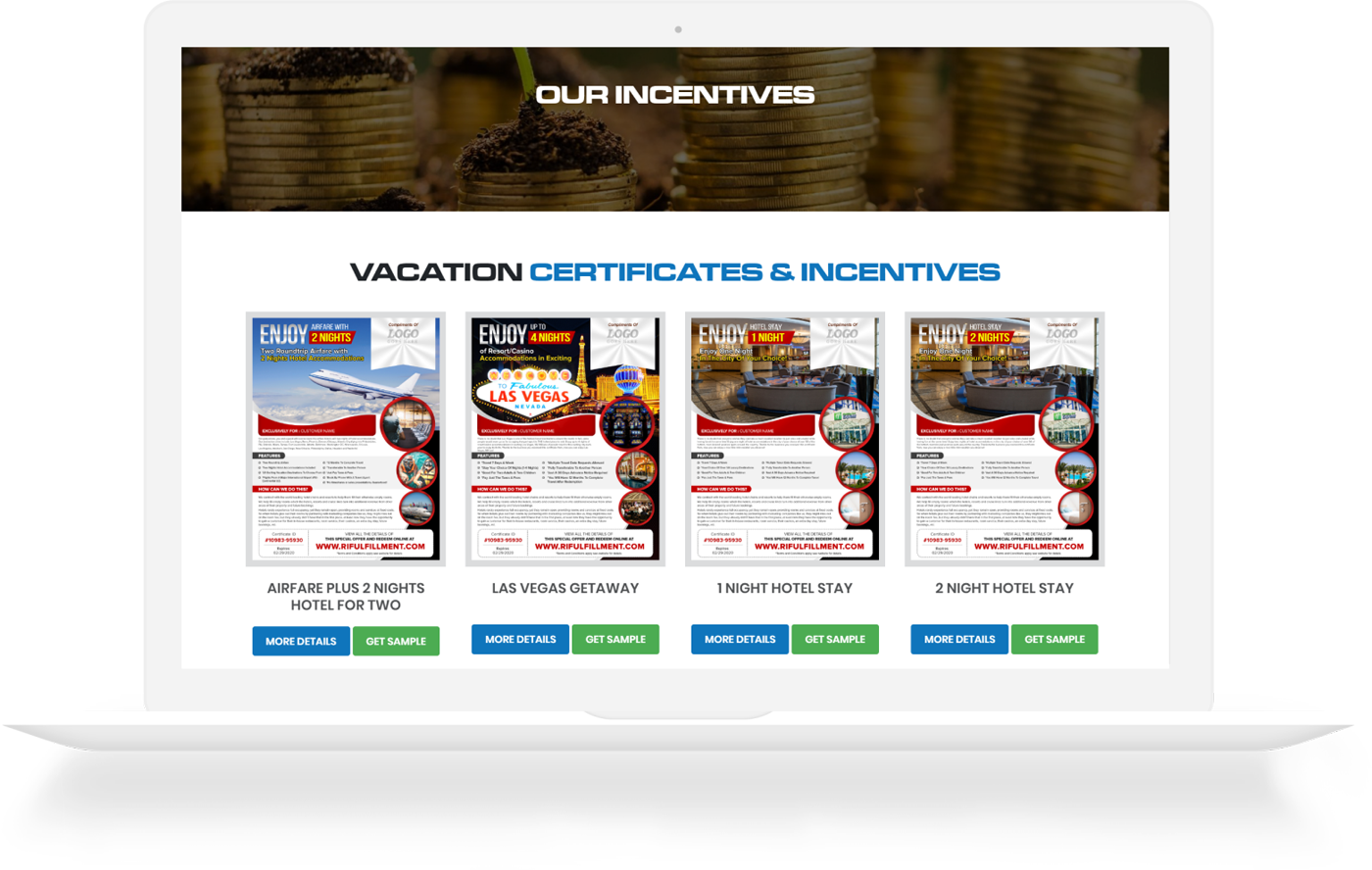 The company now offers a free toolkit with customizable ads that you can simply include your logo and start promoting your giveaways. This toolkit is available for all customers and downloadable for free as you sign up.