MAKE monthly recurring residual INCOME as an authorized RESELLER of our $99 per month program
We contribute many tools and promotional materials to advance your marketing efforts:
Replicated Website
We provide a replicated website to you that will track every customer who signs up through you. Send all prospects to your individual website, get credit for each sale, and qualify for commissions!
We Protect Your Marketing Efforts
We safeguard your marketing campaigns by tracking your prospects. Our system captures cookies for every computer who visits any CMIG replicated website, allowing us to identify and track your prospects. Our system sees when your customer tries to jump to another replicated affiliate site, or to our corporate website, and immediately redirects your clients back to your CMIG replicated site without them even knowing.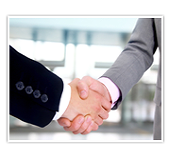 Custom Marketing Materials
We supply you with customizable CMIG business cards, brochures, print ads, and other marketing materials that you can personalize with your name, replicated URL, phone number and email.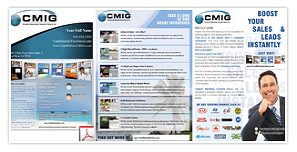 Banners
We designed and share many marketing banners that you can use to advertise on millions of websites that accept banner advertisements or even websites that you may already own.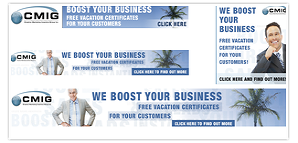 Website Video Discount
We display our sales video on every CMIG replicated website. This video offers your customers 20% off their first month when they initially sign up. That 20% discount has absolutely no effect on your commissions, making it that much easier to recruit new customers.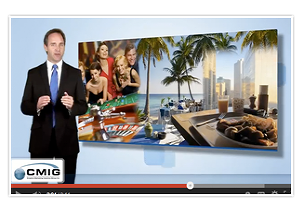 Real-Time Reporting
We provide you with a real-time reporting tracking system within your back end control panel that tracks all your sign ups, commissions, leads, redemption of certificates and more, all in real-time. We also notify you by email anytime your prospect signs up or even checks out your website.